(A Tung Lok Restaurant)
China Square Food Centre51 Telok Ayer Street Level 3
Singapore 048441
Tel: 6 533 0660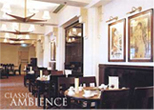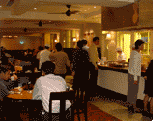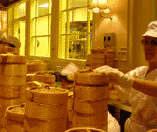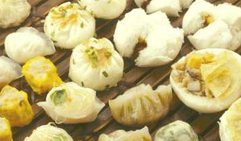 Har Kow ($5 for a serving of 4):
This deserves special mention. The "skin" was translucent and shiny and it contained generous portions of crunchy and succulent fresh prawns. However, one of our testers said that it was too salty.
Siew Mai:
Siew mai was also delicious, with equally fresh ingredients.
Shrimp Dumplings with Vegetables($3 for a serving of 3):
Shrimp dumplings with vegetables were just har kow with vegetables wrapped in a different shape. It would taste better without the vegetables at all. Order the har kow instead and skip this.
Pan-fried Turnip Cake with Preserved Chinese Sausages($4 for a serving of 3):
Carrot cake is fried well and looks delicious, its taste met up to expectations as well.
Deep Fried Yam Croquettes:
Although the deep-fried yam croquettes with chicken looked good, one of our cholesterol-conscious tasters was horrified when she lifted it from its holder as it was dripping with oil at the bottom. However, the pastry was light and flaky, quite crispy and tasted rather good.
Beancurd Skin Roll with Oyster Sauce($4 for a serving of 3):
This was the testers' favourite. The "skin" was chewy with just enough bite. The gravy went well with the roll and leeks gave it a refreshing taste.
Deepfried Prawn with Mango Rolls($5 for a serving of 3):
These did not look very appetizing. The skin was a bit chewy and the mango was a little on the mashy side and tasted more like banana.





OVERALL COMMENTS:
Tunglok lives up to its name by serving food with fresh ingredients, which led to tasters agreeing that it deserved 4 out of 5 stars.
491, River Valley Road #02-01
Valley Point Shopping Centre
Singapore 248371
Tel: 62380110
Fax: 62380220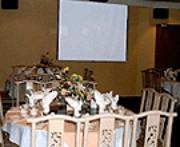 Mini Egg Tart($3 for a serving of 3):
It had a nice soft crust and creamy custurd which was still warm. The freshly made crust gave it an edge over other store-bought egg tarts.
Pan Fried Carrot Cake($3.50 for a serving of 3):
Some of our tasters thought that it was not as nice as Tunglok's but others felt it was softer and more fragrant. However, all agreed that the carrot cake was rather oily, especially at the base.
Chee Cheong Fun($4.50 for a serving of 3):
We tried both the meat and prawn version of it. Both had a smooth "skin". Worth mentioning is the charsiew in the meat version which was served in good, thick slices. However, it would be better if it came with more gravy as the gravy was yummy.
Steamed Chicken Feet($3.50):
Looked very appetizing and tasted just as good. However, one of our testers pointed out that they should go a little less heavy on the five spice powder. All felt that the dish was very oily.
Siew Mai with Fish Roe($3.50 for a serving of 4):
The ones we tried were part of the Chinese New Year special menu, hence cod fish roe was used as a garnish. This gave a fishy smell, which we did not like.
Har Kow($4.00 for a serving of 4):
Not anything to rave about. The appearance of the "skin" was quite dull. It was also too thick and chewy.
Deep Fried Spring Roll($3.50 for a serving of 3):
This version uses a sort of fruit salad cocktail for the filling, which is an interesting combination.
Steamed Dumpling Shanghai Style($4.50 for a serving of 3):
On taking a bite, gravy oozes out of your mouth. As this is not commonly served, it was quite a novelty for our tasters. Unfortunately the skin was too chewy and the dumplings were not served hot.
Century Egg Porridge($4 per bowl):
Quite special as it has black moss added. The porridge was very sweet and delicious. Enough said.
Charsiew Bao($3.50 for a serving of 3):
The bread was soft and fluffy, typical of most tim sum baos. Quite good.





OVERALL COMMENTS:
The standard of tim sum varied among dishes here. Nonetheless, overall, it was above average, with all credit to the long-standing reputation and history of the restaurant. Hence our testers award 3.5 stars.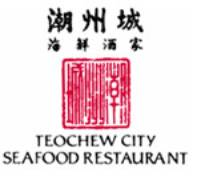 Teochew City Seafood Restaurant
176 Orchard Road
#05-16 Centrepoint
Shopping Centre
Singapore 238843
Tel : 6 733 3338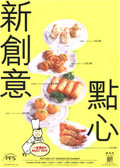 Steamed Crystal Dumpling with Dou Miao ($2.80):
The almost transparent skin reveal the rich green colour of the dou miao sprout wrapped inside. Quite an unusual dim sum item which looked good and tasted good.
Honey Bee ($3.30):
One of the few "animal-shaped" items served at this restaurant. Inspired by the chef after watching a cartoon program (yes, seriously!), this one has a crispy breadcrumb-coated outside and prawn fillings. The toasted almond "wings" add to the crunchiness.
Durian Spring Roll ($3.30):
If what we had at Dragon Pheonix and Teochew City is anything to go by, the trend nowadays seems to be for "fruity" spring rolls. This one had a D24 durian paste filling. Reactions to this were mixed. One of the testers thought it was just nice, not too sweet, another felt it would be best left as a dessert item, rather than served together with the other dishes.
Deep-fried Crispy Shrimp Roll ($2.80):
The best tasting dim sum item among all we tried. This was the ultimate in crispiness, due to the special vermicelli imported from America, as revealed by the restaurant manager. Its appearance reminded us of a deep-fried version of the dragon beard candy. Take one bite and find the crispy bits bursting from your mouth! Yummy!
Little Duck ($3.50):
Actually just a baked pastry filled with lotus paste. Only thing special was that it was shaped like a small duckling. Looks almost too good to eat.
Little Pumpkin ($3.50):
Don't be deceived by the name. Except for the shape, there isn't any pumpkin here, only a sweet custard paste. Though one tester pointed out that it did taste vaguely like pumpkin when it's mashed up. Then again, as this isn't a savoury dish, it's better left till the end of the meal as a dessert.
Special Mention:
Worth a mention is the Cold Crab which we had the privilege to sample. To put it simply, cold crab is literally crab steamed and then refrigerated before serving. The Sri Lankan crab was succulent and surprisingly sweet. There wasn't any fishy smell even if you eat it without any dipping sauce. Nonetheless, it also went well with the chilli sauce and the plum sauce.
* Look out for the special restaurant promotion in April 2002. For every dine-in dinner group of 5 people and below, ordering from the a-la carte menu, you'll receive 1 teochew-styled cold crab. A group of 5 and above, you'll receive 2 crabs.
Two other items worth trying too are the Braised Goose Meat which was lean and flavourful, as well as the Yam Paste Dessert with Pumpkin and Gingko Nut.





OVERALL COMMENTS:
Everything was fairly light, with little oil. There are a total of 22 items on the menu when we tried but we were told the menu changes every three months. As such, the dim sum fare here scored high on taste and presentation.